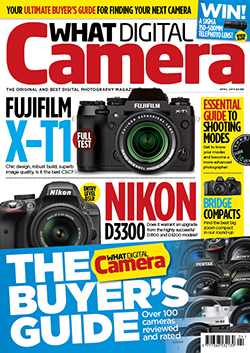 On sale: Fri, 14 Mar 2014
Highlights of the April issue include everything you need to know to get the most out of the various Shooting Modes, plus a First Look of the Canon EOS 1200D, a round-up of current bridge cameras so you can find the best superzoom camera to suit you, and much more!
Incoming:

We look at the latest camera releases.
Live View:

First looks of Canon's new entry-level dslr the Canon EOS 1200D, and of the Canon PowerShot G1X Mk II.
Fujifilm X-T1:

Full review – is the X-T1 as good as a compact system camera gets?
My digital camera:

Three pages of images that have impact and inspire, from two readers.
Nikon D3300:

Is this the best dslr for under £500? Find out in our full review.
Help:

We answer your photo-related queries.
Essential Guide:

Understanding Shooting Modes. We demystify shooting modes, giving you the pros and cons of the various shooting modes and the situations where they will come in useful for your photography.
Bridge Compact round-up:

Our pick of the best superzoom bridge compacts, from £155.
Panasonic Lumix TZ60:

The Panasonic Lumix TZ60 could well be the most complete travel compact to date – but is it? We put it through its paces.
The Buyer's Guide:

Read 68 pages of reviews of the top cameras on the market to find the best to fit your budget.
Competition:

Your chance to win a superb ultra-telephoto Sigma 150-500mm lens that's perfect for wildlife and landscape images and worth £1,000!